Saturday, August 24th, Santa Rosa, CA – Tour de Fox Wine Country Ride to Benefit Parkinson's Research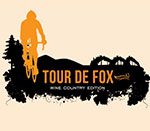 Posted on:
June 27, 2019
The  Tour de Fox Ride Series  celebrates the energy and spirit of the Parkinson's community by bringing together thousands of passionate fundraisers to strap on their helmets and push critical research forward . An estimated 6 million people worldwide are living with Parkinson's Disease- — a chronic neurodegenerative disorder.
Mike Feeney, from InterWest's Windsor office will ride for Team InterWest  to raise funds in support of  the Michael J. Fox Foundation. Proceeds will go directly to high-impact programs to speed better treatments and a cure for Parkinson's. If you would like to help, please  visit https://tourdefox.michaeljfox.org/winecountry/TeamInterWest  to make a donation. Your donation will help close the gap on a cure for Parkinson's disease.
For event information, please visit https://tourdefox.michaeljfox.org/winecountry/Static/Event-Info