Emergency Claims
InterWest Emergency Claims Procedures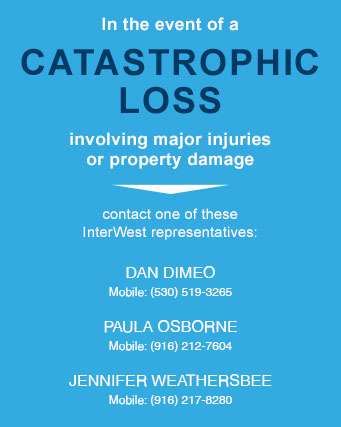 During business hours (M-F 8:30 am to 5:00 pm PT)
If your loss or accident has occurred during business hours please contact our Claims Department at (800) 444-4134 to report the loss.
After Business hours
In the event of a loss or accident occurring after business hours, please contact your carrier directly.  On this page you will find a link to the 24/7 emergency claim reporting information for the majority of our carriers.
Please remember:
Call 911 to engage emergency services.

Contact your carrier as soon as possible for assistance with the initial claim processing.

Take necessary precautions to prevent further loss to your property. Insurance policies may not cover ensuing damage if you have not taken reasonable steps to protect against subsequent damage.

Take pictures to document the damage or accident scene.

Do not discard damaged property without the approval of your adjuster.

If it appears the loss or accident may be the result of the negligence of a 3rd party, please gather as much information about the responsible party as possible. Your insurance carrier will need as many details as you can gather to pursue recovery.

Make only necessary emergency repairs. Do not repair or replace anything without first obtaining instructions from your adjuster, as your insurance carrier's visual inspection or your loss and approval may be necessary to initiate repairs.

Do not rush into repairs or rebuilding without first considering other alternatives.