Minimum Wage–What Was Once Simple, Is No Longer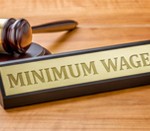 Posted on:
September 27, 2016
Written by Steve Holden, Esq., Holden Law Group
Many California employers lament the ever increasing complexity of employment regulations. What was once simple is no longer. Nowhere is that more evident than with the minimum wage. While both state and federal minimums have applied since 1938, in recent decades California's was always higher and the federal rate could be largely ignored. Moreover, the minimum wage rate changed infrequently, and not automatically. Employers could simply set it, and forget it. It is not that simple any more.
The California minimum wage was increased on January first of this year to $10.00 per hour. But, the increased rate was just the starting point. The Legislature also added new complexity to minimum wage law. Future increases through 2023 were written into the law as well as a formula for annual increases for each year beyond 2023. The formula, which is tied to the Consumer Price Index, could also yield no increase where the index during the measurement period is negative. The scheduled increases can also be temporarily suspended by the Governor when certain specific economic conditions exist. And, for the first time, the Legislature set two different minimum rates based upon the employer's size. Employers with 25 or fewer employees pay one rate and those with 26 or more pay a higher rate. Unfortunately, it is unclear precisely how and when to make the employee count or what impact fluctuating employee counts have on the applicable minimum wage required.
In addition to these state-wide changes, an increasing number of local governments have implemented their own minimum wage programs. For example, the City of Sacramento created a minimum wage ordinance that provides for a $10.50 minimum wage in 2017 with step increases to $12.50 by 2020 and a formula for annual increases thereafter. The applicable rate varies by employer size, but the sizes do not correspond with the state law. The new rates for employers with 100 or fewer employees take effect on July 1st instead of January 1st, and employers with fewer than 40 employees are permitted to delay implementation of the new rate up to six months. The employer's size is determined by the average number of people employed each pay period of the previous calendar year except for people employed for 90 consecutive days or less. The ordinance exempts participants in certain youth training programs and employees eligible for a "learner's wage" under state law.
Seem confusing? It is. There are considerably more details under each of the minimum wage laws than can be addressed here, and employers must ensure compliance with all the details. For many employers that means analyzing compliance under federal law, state law and multiple local laws. A "set it and forget it" strategy will still work, but only where the employer can afford to set a very high minimum wage. Those who cannot must calendar all the rate change dates for each jurisdiction. They must also regularly monitor employee counts to determine the application of rate changes and develop a system for efficiently making the potentially frequent changes. There is reason to lament.