InterWest Has Expanded its Presence in the North Bay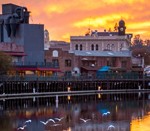 Posted on:
August 2, 2016
It is with great pleasure that we announce InterWest's expansion in the North Bay with the opening of an office in Petaluma. We finalized an agreement with EPIC Brokers to purchase their Petaluma branch and book of business. EPIC has been evolving toward national specialty practices and resource teams, supporting larger regional operations across the country while InterWest's focus and success is with smaller niche regional markets like the North Bay.
We've approached this change with EPIC carefully and collaboratively and anticipate a seamless, "business as usual" transition. We warmly welcome their staff of brokers and client services support professionals to the InterWest team. While the name on the building will change from EPIC to InterWest, we'll continue to provide the same level of quality service to our new clients, putting their needs and best interests at the forefront.