August 13, 2019 – ACA & Employee Benefits Compliance Webinar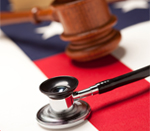 Posted on:
December 13, 2018
August 13, 2019
9:00 a.m. – 10:00 a.m. PST

Topic – Navigating the Complex World of FMLA and ADA Accommodations
Presented by Abigail O'Connell, Senior Counsel, Sun Life Financial
Employers often struggle to manage absence, statutory leaves and reasonable accommodations. The Family & Medical Leave ACT (FMLA) at the federal and state levels, the Americans with Disabilities Act (ADA) and associated ADA Amendments Act (ADAAA), pose particular challenges for employers. A host of other state and local leave laws also exist, including an increasing number of paid sick leave and paid family and medical leave laws.
Join us Tuesday, August 13, as we review the requirements of the FMLA, ADA, ADAAA and other important leave and accommodation laws. We will discuss the major risks and liabilities employers can face as a result of recent DOL/EEOC rulings and jury awards related to FMLA and ADA. This webinar will present some common scenarios highlighting the pitfalls of ineffectively administering FMLA and ADA leaves.
About your presenter:
Abigail O'Connell is senior counsel with Sun Life Financial, advising their Group & Voluntary business team on legal issues related to the Sun Life Absence & Disability Management Solutions offered to employer clients. She frequently speaks at industry conferences about legal and compliance issues related to absence management.
***Click to Register***