February 18, 2020 – ACA & Employee Benefits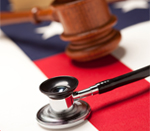 Posted on:
January 7, 2020
February 18, 2020
9:00 a.m. – 10:00 a.m. PST
Topic – Employee Benefits Update – What's New After the Spending Bill?
Please join us for an update on the Affordable Care Act and other employee benefits news. We'll cover the Further Consolidated Appropriations Act, 2020, which repeals the ACA's Cadillac Tax, the Health Insurance industry Tax (2021), the Medical Device Tax (2020), and the PCORI fee extension through 2029. We'll also discuss the Act's impact on nonprofit entities that offer qualified transportation fringe benefits and review the 5th Circuit Court of Appeals decision that holds the ACA's individual mandate to be unconstitutional and what it may mean for the future of the ACA. Lastly, we'll discuss a newly introduced Congressional bill that would expand Health Savings Accounts for all plans (not just HDHPs), and significantly increase the contribution limits and allow HSAs to be used to pay health insurance premiums.
***Click to Register***