March 24, 2020 – Office Ergonomics Evaluation Workshop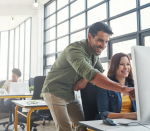 Posted on:
January 9, 2020
8:00 a.m. – 12:00 p.m.
Redwood Room
8950 Cal Center Drive
Bldg. 3, Suite 200
Sacramento, CA 95826
This workshop, designed to train participants to become effective ergonomic evaluators at a basic level, includes interactive breakout sessions to practice the essential components of an evaluation. There will also be a practical workstation analysis at the end of the training. Attendees will take away tools which will enable them to conduct basic ergonomic assessments. This is a fun and fast-paced workshop, so prepare for a ½-day full of activities. We encourage attendance by all who participate in conducting ergonomic evaluations for your company.
This 4-hour workshop includes:
Ergonomics 101
Identifying Ergonomic Risk Factors (including the ever-popular section "Identify the Risk")
Conducting the Ergonomic Evaluation
Recommending Cost Effective Ergonomic Solutions
Writing the Report
Follow up with the Employee
Presented By:
Jim Szymanski, CSP, CEAS
Risk Management Consultant, InterWest Insurance Services
***Click to Register***