2017 Sacramento Go Red for Women Luncheon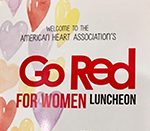 Posted on:
May 19, 2017
Go Red for Women is the American Heart Association's national movement to end heart disease and stroke in women. On May 19th more than 250 people, including a group from InterWest, came together to educate everyone, raise awareness and funds. Over $55,000 was raised to help continue the mission of encouraging women and their families to take action and live a healthier life.
Visit the American Heart Association for more information.