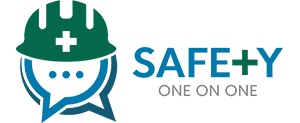 "It starts with one conversation, with one person, about one thing."
We believe that Safety excellence is just good business. We have helped many of our clients manage this often overlooked area of their organization and recapture some serious dollars. If you're like them, you have struggled with your safety program and despite your best efforts, continue to experience claims. The literature tells us that 96% of all injuries are caused by unsafe behaviors. This important fact led us to build our program, Safety One on One.
Safety One on One is a systematic approach to safety in the workplace that utilizes cutting edge adult learning and cognitive behavioral principles focused on driving safe behaviors through simple one on one interactions between managers and employees, and eventually owners and managers. Our program has been designed to engage the leaders and influencers within your organization to champion learning, teamwork, and effective communication. We use safety as a transformational force and vehicle for change inside your company. Safety One on One creates an environment that focuses all levels of management on the activities that lead to safe behaviors and safe habits.
We collaborate with you and your employees to identify critical habit-driven behaviors that have led to injuries within your organization.  Asking your employees to assist in solving your pressing safety issues not only captures key institutional knowledge but also greatly increases employee buy-in and engagement.
Our innovative behavior change program utilizes deceptively simple but powerful tools that have been engineered with the science of adult learning and performance support to prompt users to think critically, make better decisions, and build safe and sustainable habits.
One person cannot do this alone.  We will be with you every step of the way.  Our hands on approach to implementation is the hallmark of our program.  We not only give you the tools to succeed; we teach you how to use these tools within the context of your business environment.  You will learn how to build our process into your existing workflows and spread out the hard work of safety throughout the organization.

Aspirational
This is a program designed for companies that have an appetite for growth and improvement.  This process works best with specific, time-driven goals.
Narrow Focus
This is a program designed for companies that have an appetite for growth and improvement.  This process works best with specific, time-driven goals.


Keep Score
Measuring your activities and putting them on a compelling and visible scoreboard is the best way to keep your employees engaged in the process and focused on the right things.  We all take things more seriously when we keep score!
Leadership Driven
If it matters to you, it will matter to your employees.  Communicating what matters to you is done through what we talk about every day.  If we only talk about production most days, and safety is only discussed at safety meetings once a quarter, your employees will know what really matters to you.

Bottom-Up
Our bottom-up approach gets employees involved in the creation of the program so they can be part of the process and take ownership of the solutions.  It's much easier to hold people accountable to their own ideas.