Break Free Run – The Race to End Human Trafficking – Join us!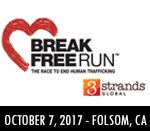 Posted on:
May 26, 2017
Join InterWest in supporting the 8th Annual   3Strands Global Break Free Run – October 7th at 8:00 am in Folsom- 5K and 10K Run/Walk and Kids' Fun Run.
The Break Free Run is an integral part of  fundraising efforts by 3Strands Global to fund prevention education and reintegration programs for victims of human trafficking.
For event  information, to register  or to volunteer, please visit   http://3strandsglobalfoundation.org/races/cities/folsom/