February 1st – Go Redding Luncheon encourages the community to Love Your Heart!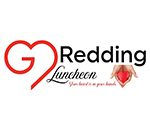 Posted on:
January 29, 2019
​Grab your friends and join InterWest's Redding office for an afternoon of education, entertainment and women's heart health awareness at the
Shasta Regional Medical Center Annual
Go

Redding Luncheon
February 1st, 2019
11:00 am -1:30 pm
Holiday Inn and Convention Center
Every minute in the United States, someone's wife, mother, daughter or sister dies from heart disease, stroke or another form of cardiovascular disease. Understanding female risk factors leads to awareness and prevention. Awareness leads to lives saved! Keynote Speakers this year, Dr. Sunny Bhatia, Chief Medical Officer of Prime Healthcare and Dr. Mohamed Khan, Cardiovascular Center, will share stories and advice on women's heart health.