InterWest's Walking Warriors Team raises $3,177 to help fund Cancer Research at the Relay for Life event on May 14th and 15th!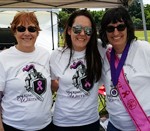 Posted on:
June 7, 2016
As part of the 2016 InterWest Gives Back Program, our Chico office participated in the Relay for Life event held at Pleasant Valley High School on May 14th –May 15th. This is a fundraiser for Cancer research and Cancer awareness. Relay for Life is a very fun and uplifting event that brings colleagues, clients and friends together to walk laps day and night to raise money. With help from InterWest's Walking Warriors team, the Chico community raised more than $147,000 at the event. Fantastic job everyone!
A big thank you to all members of Team InterWest-you rocked it!