Saturday, September 7, 2019 – Rock the Block with Habitat for Humanity!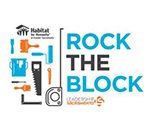 Posted on: June 19, 2019
What is Rock the Block? Over a single weekend, several hundred volunteers converge on a section of town to transform the homes of veterans, low-income families and the elderly on limited incomes through a variety of repair projects. By fixing these long-deferred maintenance projects and code violations, you will be helping  families stay in their homes and off the streets. Contact Karen Esquibel for additional information.