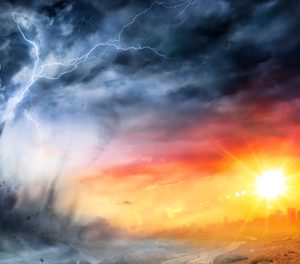 The year 2022 was one of the most tumultuous climate disaster years in history, a year when we saw the massively destructive Hurricane Ian, an unprecedent number of tornadoes, growing wildfires in the West and a "bomb cyclone" in late December.
And the increasing number of natural disasters is not just a U.S. phenomenon. It's happening around the world.
According to a report by Swiss Re Institute, the research arm of the reinsurance giant, insured catastrophe damage totaled $115 billion globally for 2022, although total economic losses were much higher at $260 billion.
The increasing frequency and intensity of these natural disasters in the United States, combined with soaring inflation, supply chain issues and labor shortages, is also having a knock-on effect on homeowner's insurance prices.
There were 15 billion-dollar weather and climate disasters in the first nine months of 2022 alone:
Southern tornadoes: March 30
Southeastern tornadoes: April 4-6
Severe weather in the South: April 11-13
Western fires: Spring through fall
Severe weather in the South and Central U.S.: May 1-3
Hailstorms in north-central U.S.: May 9
Severe weather in north-central U.S.: May 11-12
Hailstorms in north-central U.S.: May 19
Severe weather in Central U.S.: June 7-8
Central derecho (an inland hurricane): June 13
Severe weather in north-central and Eastern U.S.: July 22-24
Flooding in Kentucky and Missouri: July 26-28
Hurricane Fiona: Sept. 17-18
Hurricane Ian: Sept. 28-30
Western drought and heatwave: All year
And just to cap the year off, we had the Christmas bomb cyclone (known as Winter Storm Elliot) that threw a blanket of arctic freeze across large swaths of the country, causing an estimated $5.4 billion in insured losses in 42 states, according to Karen Clark & Co.
There are a few things to note about the list of calamaties. You'll notice that some of these events were "severe weather" that didn't qualify as a hurricane or derecho. But these severe weather events are starting to have as much destructive force as these primary perils.
Much of the weather the U.S. is experiencing is more intensive and far-reaching than before. The nature of hurricanes is also changing: these storms have typically caused wind and storm-surge damage, but as they grow wetter, they are now causing more rain and flood damage on top of the other damage.
And hurricanes are bringing flooding far beyond the coasts and into the central parts of states such as in Florida and the Carolinas, according to the Swiss Re report.
Drought is also a serious issue, particularly how it affects wildfires and water supplies. Years of low rainfall and overuse have left the Colorado River a shadow of its former self, resulting in record low levels in Lake Mead and Lake Powell, the sites of two main dams that may soon stop producing electricity for millions of people.
According to the Sept. 27, 2022 "U.S. Drought Monitor" report, about 51% of the contiguous U.S. was in drought, up about 5.4% from the end of August. Drought conditions expanded or intensified across portions of the Mississippi Valley, central and northern Plains, Northwest, Southeast and parts of the Great Lakes.
The fallout
As of this writing, the full-year insured costs of weather disasters in the U.S. had not been calculated, but modelers predict the total property and infrastructure damage would be nearly $100 billion. Through the first nine months of 2022, total losses due to property and infrastructure damage reached $29.3 billion.
Those figures don't include Hurricanes Fiona and Ian, the latter of which caused an estimated $65 billion in insured damage. Hurricane Ian was the year's costliest catastrophe and the second-largest insured loss on record after Hurricane Katrina.
These events, plus the cost of repairing and rebuilding buildings and infrastructure also on the rise thanks to increasing material and labor costs, are having a knock-on effect on homeowner's insurance.
Homeowner's insurance rates rose 12.1% on average nationwide in 2022 from the year prior, according to Policygenius. However, people living in disaster-prone areas are seeing much higher rates. In the case of Florida and California, some people are unable to find insurance for their homes or face two-, three- or four-fold increases in their rates.