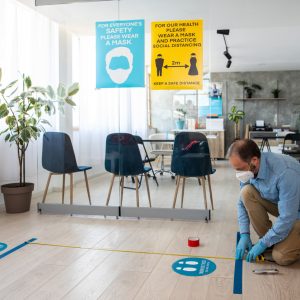 Cal/OSHA has issued new language that amends its current COVID-19 emergency temporary standard and pushes back the expiration date of the ETS until the end of the year.
The extension of the ETS comes as Cal/OSHA pushes ahead on creating a permanent airborne infectious disease prevention standard for general industry, which is expected to be completed over the summer.
The proposed ETS makes a number of changes to the existing version, but leaves most of it in place. Here the main changes that are likely to take effect when Cal/OSHA's Standards Board votes on the language on April 21:
COVID-19 positive cases with no symptoms or resolving symptoms can return to work after testing negative on the fifth day.
The revised ETS drops a requirement that symptomatic employees be tested regardless of their vaccination status.
It adds a new term, "returned cases," which refers to employees who have had COVID-19 and have returned to work and have not developed symptoms after returning. An employee will only be considered a returned case for 90 days after the initial onset of COVID-19 symptoms or, if the person never developed COVID-19 symptoms, for 90 days after the first positive test. Employers will not be required to test returned cases.
It changes the definition of what constitutes a face covering to exclude if light can pass through the fabric as a factor in whether the covering is acceptable.
It drops the requirement that employees who are not fully vaccinated must wear face coverings, and maintains the 6-foot distancing requirement for workers who are exempted from wearing facemasks for medical or other reasons. Such employees still will be required to be tested weekly.
It drops cleaning and disinfection procedures from the engineering controls required by the current ETS.
The revised ETS drops exclusion requirements for employees who contract COVID-19 and employees who came into close contact with infected co-workers. Instead, employers will be required to review the California Department of Public Health Guidance and implement effective policies.
It drops the requirement that requires partitions for exposed groups working together for an extended period but who can't maintain distance, such as at cash registers, desks, and production line stations. Partition requirements have been replaced with a requirement that employees maintain a physical distance of 6 feet or as much distance between persons as feasible.
It changes the rule so that testing be "required" — rather than simply "made available" — for major COVID-19 outbreaks (defined as 20 positive tests in 30 days).
The takeaway
The proposed ETS relaxes multiple protocols and requirements under the current ETS.
Once language is adopted, employers will have a few weeks to update their protocols to comply with the ETS. Because the regulations have been so fluid and a permanent standard on airborne infectious diseases is imminent, employers need to make sure they are following the most current rules.