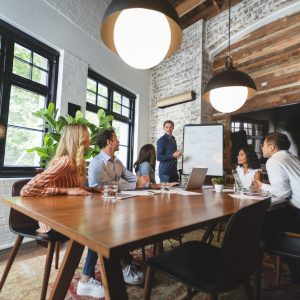 You've managed to put together a crack team of producers and you suddenly find yourself with more business than you can handle.
You didn't put systems and support personnel in place to handle the volume of new business your new agents have started producing and if you don't get a handle on it quickly, your agency may make mistakes on paperwork and policies. This is what can happen to an agency that suddenly starts growing more quickly than it had planned for.
You may have been diligent about ramping up your sales, but agencies that fail to also fund a support structure for those increased sales can suddenly find operations spiraling out of control – such as policies not being bound, premium invoices not being mailed and failing to tend to accounts that need premium adjustments or audits.
There are a few ways you can better prepare your agency for fast growth by using technology and cross-training personnel who can wear different hats, while you look for new people to support your growing sales. You also need to keep a close eye on your budget to make sure you are not adding too many expenses.
Below are a few ways you can support rapid sales growth.
Technology
One way to prepare is to upgrade your technology, which beats manual processes in terms of speed and efficiency. Technology is a huge asset to streamlining business operations, especially in the insurance industry.
One of the first places to look is your agency management system, of which most agencies fail to take full advantage. That's a pity, because an agency management system – fully utilized –can greatly improve operations and efficiency.
Get the most out of yours by keeping up with training on new features, as well as getting new agents and personnel trained on the platform. Many platforms allow you to automate your workflow and document management systems, all of which can better support your sales team by ensuring new customers and policies are entered into the system in a timely fashion.
Some platforms allow for automated carrier downloads and multi-carrier submissions.
You may also want to invest in solid customer relationship management software, which helps you store and maintain customer and prospect information. It can help your agency organize customers, manage information, find new prospects and improve existing relationships.
By uploading your contacts in one central location, you can better manage your sales pipeline and track every step of the prospecting and sales process.
Cross-train your staff
As you grow, you should consider cross-training new hires and existing support staff to wear different hats and learn new skills on the job.
The main goal is to create redundancies in case a key employee is out sick or leaves, but it can also help your agency keep operations humming if it gets busy. Cross-training will also give you some breathing room to hire new staff to support your growing sales.
Cross-training helps ensure stability and provides valuable flexibility, especially as an agency is growing. Any organization without backups for key roles can grind to a halt if key personnel are unavailable. Cross-trained staff can provide safeguards for these contingencies.
An added benefit to your agency is that cross-training deepens employees' understanding of the business.
If you have staff that can wear any hats, you can take your time in hiring new personnel. A bad hire can cost your agency more than just the time and cost of training them. Your business growth is fueled in part by who you have on your team, so make sure your team is exceptional.
Keep an eye on your budget
One of the biggest dangers of rapid growth is that if you don't manage your finances well, you can quickly find yourself with cashflow problems, particularly if you are investing in more support staff and systems. Investing in your agency based on a short-term spurt in new business is unwise.
To create a budget for scaling resources, you need to understand which and how many resources you need.
You can do this by thinking about your agency in terms of workflows. Figure out how many workflows your team can currently manage, and how much the workflows would increase when your agency starts attracting more clients.
Another budgeting issue that may arise is when your team grows to such an extent that you outgrow your current office space. If that happens, you may need more time and money than you previously thought.