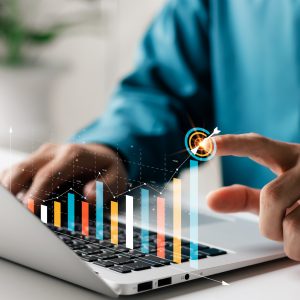 When the commercial insurance market hardens, like it has been during the last few years, it puts extra pressure on agencies and their producers to drive new business and retain existing clients.
Producers have to step up their efforts to shop around for competitive prices for their clients, who are facing sometimes significant rate hikes. During hard markets, management and producers will need to be creative in attracting new business by launching effective marketing pushes, while reaching out to existing clients to keep the relationship warm and retention high.
To help your producers succeed, it's vital that you have in place a viable system for setting benchmarks and tracking their production. There are a number of metrics you should be tracking and measuring to help your producers keep growing their books.
Here are four of them you should be keeping track of:
New clients
New business is the foremost metric that you should be tracking. You'll need to have a good grasp on what clients you already have on your books at the end of a year, so you can measure all new business you write.
This is the main indicator of an agency's failure or success in both writing new accounts and retaining them across future renewals. By tracking new business growth, your agency can better identify what kinds of accounts you are writing and what they are buying, so that you can better formulate a sales and marketing plan.
You can get more insight into your how your agency is doing in writing new business by measuring "sales velocity." This metric indicates how successful your producers are in writing new accounts.
It's measured as a ratio calculated as follows: New commissions and fee income divided by the prior year's commissions and fee income.
Retention
It makes sense that the second metric is also focused on customers since they are the lifeblood of your agency. And retention is key to your long-term stability and growth. Also, the higher your agency's retention rate is, the higher its valuation and profit margin.
You will want to measure the percentage of clients who renew their policies with your agency. If you're seeing a lot of accounts leaving or being lured away by competitors, you'll want to figure out why and what you can do about it.
Retention rates also reflect just how loyal and satisfied your clients are with your service.
According to the Independent Insurance Agents of Dallas, the average client retention rate for the insurance industry is 84%. To see if your agency measures up, take the number of clients you had at the end of your renewal period and subtract the number of new clients you added during the period.
Next, divide this number by the number of clients you had at the start of the period. Then multiply that number by 100 to arrive at your final retention rate.
Number of policies in force
Another important metric is the number of policies all of your clients have combined. This number indicates the size and strength of your client base.
Studies have found that agencies with books of business with multiple policies per client have better retention rates.
Further, as part of this metric, you can measure the average number of policies per client. This number can give you an idea about how good a job you're doing with cross-selling to existing clients.
If you can manage to get an average policy count of two to three per client, you're doing great.
Book of business per producer
The last key metric for gauging an individual producer's sales success is the size of each one's book of business.
Agencies that are growing quickly and which are profitable, usually have a higher average book of business size per producer, compared to agencies that are growing more slowly.
Measuring their average books of business against benchmarks can give you insight into the quality of your producers.
The takeaway
Metrics are extremely important for agencies to measure the success (or failure) of their producers. These numbers give you insight into the "stickiness" of your client base and areas where your producers may need to improve.
If you are focused on growing your book with quality accounts and ensuring your producers are staying the course, you need to track all of the above metrics.