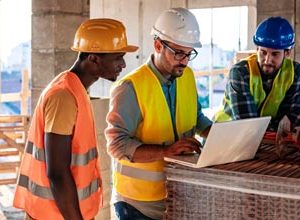 The ongoing labor shortage affecting the construction industry is leading to increasing exposure for contractors due to a number of risks.
Working short-staffed or with employees new to construction can lead to increased workplace injuries, which in turn can result in higher workers' compensation premiums. It can also result in shoddy work that needs to be redone at the expense of the contractor, or construction defect lawsuits further down the line.
The net seasonally adjusted national construction unemployment rate hit 3.4% in September 2022, down from 4.5% in the same month a year prior, according to an analysis of U.S. Bureau of Labor Statistics data by Associated Builders and Contractors.
In February 2022, ABC estimated that the construction industry needed nearly 650,000 additional workers on top of the normal pace of hiring in 2022 to meet the demand for labor.
Contractors that aren't operating with a full crew have to contend with the following:
Workplace safety
Studies have found that experienced workers are less likely to suffer workplace accidents than those who are new to the job.
When you add to the mix inexperienced workers, who are not as familiar with safety protocols, the potential for a workplace incident increases exponentially.
Inexperienced employees are also less likely to notice dangerous work practices or safety issues. Being new, they may also be loath to speak up even if they see a problem or are unsure.
They can also be a danger to the public if they are on worksites that are near sidewalks or heavily trafficked areas. A stray beam or other equipment that injures a third party can result in legal action.
Additionally, with a fully staffed worksite, workers and supervisors are better able to identify safety issues that may result in a workplace injury and ensure they are corrected. Key safety practices — such as using a spotter in confined spaces or ensuring that a trench is reviewed for safety by a competent person — may also suffer.
Finally, contractors that are not operating at full capacity may pressure employees to get more done in less time and/or work overtime. That can lead to workers cutting corners and working faster than is safe to get the job done.
Quality and defects
Construction quality can also suffer when a contractor isn't fully staffed for its workload, especially in projects that are highly repetitive, such as multifamily construction.
If a worker without enough experience or training misunderstands what needs to be done, they can repeat a mistake over and over again.
As mentioned above, overworked employees may cut corners, which can lead to defective workmanship.
When workers make mistakes, particularly if they repeat the error again and again, it can lead to:
Tearing out their work and redoing it — Depending on the extent of other work that's done on top of the improperly done work, that can be a small job or a major one that entails ripping out other materials.
Construction defects — Some mistakes may not be readily apparent, particularly if they are behind walls, under roofs or in areas that are not visible. Those may manifest themselves months or years after a project is completed. Once discovered, the client may file a construction defect claim against the contractor whose employees performed the shoddy work.
What you should do
While getting staffing levels up to meet your demand may be difficult, you should strive to ensure that all new workers are properly trained in how to do their jobs, and in particular how to perform their job safely.
Besides being able to safely do their jobs, they should be trained about other hazards on the job site, including watching out for moving equipment or material and knowing when to ask for assistance of someone to observe their work in hazardous situations.
Before each shift, you should hold a quick safety meeting as well as a longer tailgate-style meeting on a weekly or bi-weekly basis. Even experienced workers need to refresh their safety knowledge, so all of your workforce should be in attendance.
Finally, besides your mandatory workers' compensation coverage, you should make sure that you have in place construction liability insurance. This common liability coverage protects your business if it's held responsible for events like property damage, bodily injury or defective work.