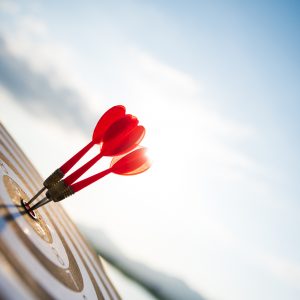 As your agency grows or if you are struggling to stay on a positive trajectory, it's important that you know how well your staff is performing and how much you are spending to expand your book of business.
Whether you're growing or in an operational rut, you'll want to make sure you are doing the right things to maximize your profit and growth potential. You want to know if you are spending money in the right places to support your agency's growth, and that you are keeping accounts happy.
If you are not taking steps to understand these factors, you could end up spending money on the strategies that are not growing your book, helping you retain clients and ensuring a healthy profit margin.
You may want to consider using key performance indicators (KPIs) to gauge your agency's success, but they require that you keep good records and are able to analyze your agency's data. The idea of KPIs is not new and they are used in many industries, but to properly measure your agency's performance you should be tracking the right data.
A robust agency management system or customer relations management system should help in producing the data you'll need to track these KPIs. There are a number of KPIs you can track, but in this article we'll focus on sales and binding KPIs, which can help you measure your sales and marketing performance.
Cost per bound policy
This is basically the cost of acquiring a new customer who purchases an insurance policy. This is an important metric to help you understand just how much you are spending for each customer you sign on.
You should measure this KPI on a monthly basis, so that you can take steps to reduce your average cost of landing a new client if the measure is too high.
Cost per policy bound by line
This is similar to the cost per bind, but it digs deeper to arrive at the cost per bound policy for each line of coverage you sell. You can calculate the cost per bind for various policy types, such as workers' comp, commercial auto, business owner's, employment practices liability and cyber, among others.
You may find that your producers are having the greatest success selling commercial auto, but spending an inordinate amount of time trying to sell cyber insurance and writing new policies. This metric can help you understand your business's strengths and help you better market your agency.
You can also set up a KPI for each line of insurance to help identify any deficiencies in your agency.
New policies per agent
This KPI lets you benchmark each producer against the rest of your team. Understanding which producer is writing the most policies, and which ones are lagging, can help you focus your training efforts on those that need it the most.
Cost per quote
This is similar to the cost per bind, but as you know, agencies don't write every policy they quote. This KPI it will give you a picture of how much money you are spending to be able to quote a prospect's business.
You can compare and contrast what you learn from this KPI to the cost per policy bound. For example, if you find that the cost to quote an account is relatively low, but the cost to bind a policy is high, you are likely losing clients often after quoting their business. Understanding this dichotomy with the help of metrics can help you identify inefficiencies in your organization.
Speed of underwriting
This indicator measures how much time it takes an underwriter to process a policy application from your agency.
A quick underwriting turnaround can make or break a sale, but slow underwriting is not always the fault of the insurance company. Sometimes it's due to underperforming agency staff or your employees not collecting all the necessary customer information that the underwriter needs. This KPI can help you identify these issues so that you can take appropriate steps to correct them.
Also, if you have quick underwriting turnarounds, you'll have more satisfied clients.
The takeaway
Measuring your business's sales performance through KPIs can help you better identify areas that your agency should improve on, and also its sales strengths.
This in turn can help you make the changes necessary to improve those KPIs, and then measure the success of those changes by evaluating the same KPIs at a future date.
If you want your agency to thrive, be productive and increase retention, you may want to consider adding KPIs to your toolkit.