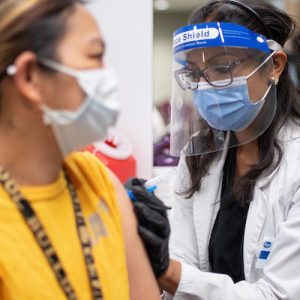 The Biden administration has announced plans to require businesses with 100 or more employees to require their workers to be vaccinated for COVID-19 or be tested for the coronavirus on a weekly basis.
The order is part of a sweeping six-part "Path Out of the Pandemic" plan, which focuses on expanding vaccinations, opening schools safely, improving care for coronavirus patients and protecting the economic recovery. The plan also:
Requires federal workers and federal contractors to be vaccinated.
Requires health care workers in hospital settings that see Medicare and Medicaid patients to be vaccinated.
Requires employers to give staff time off to get vaccinated.
Calls on large entertainment venues to require proof of vaccination or a negative COVID-19 test for entry.
Employers are obviously concerned about the impending rules, particularly how they will be enforced and how to handle employees that opt for weekly testing or who refuse to be vaccinated based on religious or health reasons.
Since the order will be an emergency temporary standard (ETS), expect OSHA to issue the new rules within 30 to 60 days after President Biden's Sept. 9 announcement.
What to expect
The federal agency's emergency standard will affect more than 80 million workers in private sector businesses around the country. An ETS can only remain in effect for six months, after which it has to be replaced by a permanent standard or allowed to sunset.
OSHA has already started work on the rule that the administration says "will require all employers with 100 or more employees to ensure their workforce is fully vaccinated or require any workers who remain unvaccinated to produce a negative test result on at least a weekly basis before coming to work."
Employment law attorneys say that depending on how the new rules are written, it may be a burden on many employers to collect and track weekly test results for those workers who choose not to be vaccinated. The added bookkeeping headache may prompt some employers to abandon it and impose a mandatory vaccine policy.
There are also costs to consider with weekly testing. Some states have laws that have been on the books long before the pandemic that require employers to pay for mandatory medical tests or reimburse employees who pay for those tests themselves.
Additionally, the Fair Labor Standards Act requires employers to pay employees for the time spent undergoing testing during the workday. This includes if employees are getting tested on their days off.
Also, it's expected that the ETS will require employers to accommodate workers who won't get vaccinated based on medical issues or due to a "sincerely held religious belief."
There are still many questions that employers have, including:
How will the 100-employee threshold be counted?
How will employers collect proof of vaccination?
What type of COVID-19 tests will be acceptable?
What you can do now
If you employ 100 or more people, you know this regulation will be coming, so you can get an early start by encouraging your employees to get inoculated against coronavirus. That way when the rule comes into effect, you'll have a good start.
You should also decide if you want to allow employees to forgo vaccination and instead be tested.
Larger employers should regularly check for further guidance on unsettled issues such as whether the employee count will include part-time, full-time, and temporary workers, who will bear the financial costs for weekly testing, whether the vaccine mandate covers remote workers, and whether time spent obtaining a test and awaiting results is compensable time.