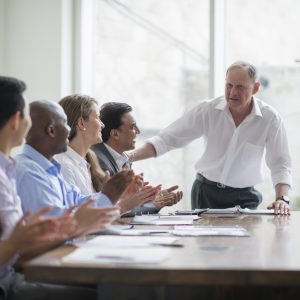 The point comes in every insurance agency principal's career that they start thinking about retiring or transitioning into a different line of work they always have dreamed of.
Or perhaps life complications arise, such as divorce, serious illness or the death of an agency partner that spurs the agency owner to hang it up.
Whatever is on the horizon, it's important that you engage in some succession planning long before you are even considering moving on, so that when the time comes you'll be one step ahead.
In whatever situation you find yourself, there are a few ways you can go when exiting the business:
Selling the agency to a star employee willing to take over the business,
Passing the operation on to a family member,
Selling your interest to the other partners if there are any, or
Selling to an outside company, preferably a reputable agency that will take care of your clients.
You'll have to decide which one is most feasible, particularly if you want the business to continue operating in good hands.
Choosing a successor or buyer
If you're torn between passing the company on to a family member, a current loyal employee or an outside party, you'll have to sit down and make a choice. If you're focusing on a family member who is working in the business or an employee, you'll first need their buy-in.
Whoever you decide on may not want to take over. That's why it's best to have a few people in mind for succession.
The sooner you settle on someone the better. This is something you should be thinking of even before you decide to leave, for continuity's sake.
You should start grooming them as soon as possible to take over for you, so they can do so seamlessly in the future when the time comes. This is also a risk management move. If you have someone who has been trained in your agency operations, they would be able to step in if something were to suddenly happen to you to the point that you would be unable to run the business.
The situation is different in an agency with multiple owners. In this scenario, an outgoing principal can sell their stake to the other existing partner(s) or transfer ownership to a family member interested in taking over for you and retaining equity in the firm.
If the sale is to be external, will it be to a local competitor, or a regional or national brokerage?
In all of the above cases, one of the most important things is to find a party that is compatible with your current agency culture and operating style. The goal is to match up the expectations and philosophy of the buyer to the seller.
Don't go it alone
While you may be a pro at running an insurance agency, you are not likely as well-versed in the process of selling or transferring ownership of an insurance agency.
Instead, you should hire a merger and acquisition consultant to help you in the process – preferably one with experience with insurance agencies. You may need a few years to get the business in shape to sell or transfer ownership, and they can help you with that as well.
When the time comes, your consultant can help you choose the best candidate to sell and/or transfers ownership to, in order to best ensure that both you and they benefit from the transaction.
They can also help set the framework and the price of the transaction and what you can expect from the sale. They can also later coordinate with your lawyer and accountant on the terms and conditions of the sale. You'll need the accountant to review the contract to bird-dog any tax implications.
Lawyers should help write the contract and review the sale. Your consultant can work with you and the party taking over the agency to ensure a smooth transition.
Putting a value on the business
In our next blog, we'll examine how to put a value or price on your agency. There are few ways to do this and it's important to get it right, so that you price it fairly and especially avoid selling the operation for less than it's worth.