The May 19th WEAVE Walk A Mile in Her Shoes Event was cancelled due to reports of severe rain and thunderstorms which potentially could have compromised the safety of walkers. To show support for survivors, several members of Team InterWest strutted their stuff on May 23rd in and around InterWest' s Sacramento office.
A huge thank you to ALL members of Team InterWest who helped raise more than $15,000 to support WEAVE'S 24/7 services and who were all ready and willing to put their "soles" on the line to help create a safer and healthier community. Looking forward to better weather in 2020!
*WEAVE to host a Walk a Mile " Shoe-Over"
WEAVE is planning a special event for all registered Walk a Mile walkers in the near future-More information will be available soon!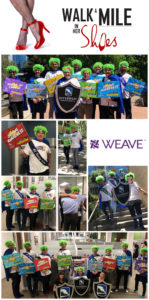 Team InterWest's 2019 Super Heroes
Captain-Jeff Keena
Rob Oates, Rob Deatsch, Zac Day, John Weber, Sara Walliser, Kevin Higgins, Ignacio Melgoza, Cameron Rappleye, Bradley Boatright, Erica Shaw, Tony Grego, Aaron Chu, Adrian Ramirez, Jordan Swanson,
Denise Mercado, Geven Peterson, Grant Rappleye, Mary Reinhardt, Brian Clabaugh, Jonathan Carter, Faith Sherman, Jeremy Sherman, McKenney Houck, Michael Hooks, Paul Durrans
Thank you!