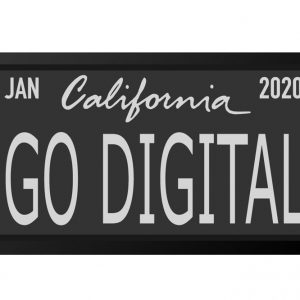 A new state law that allows for digital license plates to be installed on vehicles in California, may have created a privacy nightmare for employers.
The Motor Vehicle Digital Number Plates Act, which took effect Jan. 1, enables fleet and commercial vehicle owners to purchase and install digital license plates and soon-to-be-approved alternative devices for tags, stickers, tabs, and registration codes that can track vehicles and make vehicle registration easier.
The new law has significant implications for fleet and commercial vehicle owners that want to track vehicles using a digital license plate or alternative GPS device, and they will need to follow the law's driver disclosure requirements to avoid fines.
The plates
Currently, Reviver Auto, a Foster City-based company is the only firm approved to sell digital license plates in California.
There are two types of plates available: battery and hard-wired plates:
Battery-powered plates go for $19.95 a month, or $215.40 for a four-year agreement.
The hard-wired plates, which are only available to businesses, cost $24.95 a month.
The plates can be programed to display certain messages, or an alert if the car is stolen. With the plates' accompanying app, users can renew their car registration with the Department of Motor Vehicles.
What employers can and can't do
The law allows employers to monitor employees, by "locating, tracking, watching, listening to or otherwise surveilling the employee" through the digital license plate or alternative GPS device as long as it is "strictly necessary for the performance of the employee's duties."
Employers may only monitor them during work hours.
If you choose to monitor employees using digital plates or an alternative GPS device, under AB 948 you are required to provide them with a notice, which must — at a minimum — include the following:
A description of the specific activities that will be monitored.
A description of the worker data that will be collected as a part of the monitoring.
A notification of whether the data gathered through monitoring will be used to make or inform any employment-related decisions, including, but not limited to, disciplinary and termination decisions — and, if so, how, including any associated benchmarks.
A description of the vendors or other third parties, if any, to which information collected through monitoring will be disclosed or transferred. The description shall include the name of the vendor or third party and the purpose for the data transfer.
A description of the organizational positions that are authorized to access the data gathered through the alternative device.
A description of the dates, times and frequency that the monitoring will occur.
A description of where the data will be stored and the length of time it will be retained.
A notification of the employee's right to disable monitoring, including vehicle location technology, outside of work hours.
The law also bars employers from retaliating against workers who remove or disable the tracking devices during the times they are not working.
Fleet and commercial vehicles owners that violate the law can be subject to:
Civil penalties of $250 for the initial violation, and
$1,000 per employee for each subsequent violation. For subsequent violations, penalties will be calculated per employee, per violation and per day an employer monitors its workers without proper notice.
The takeaway
With potential civil penalties at stake, fleet and commercial vehicle owners that want to use these plates should tread carefully, legal experts say.
If you want to use them, you should revise your employee handbook to include the required notice. Additionally, if you plan to monitor employees using these plates, ensure you get their signatures on the disclosure form.
Be aware that you may need to comply with other legal requirements to protect your employees' privacy, including how you handle, store and convey data from the plates.